American pokeweed

Status LU: established. 1st record:

LU

<1946,

ITW

1980.
Amerikanesch Kermesbier
Status Eur.: established. 1st record: Med. ~1650. 1
Raisin d'Amérique, Teinturier
RA: ISEIA: B1, Watch List. Harmonia+: n/a.
Amerikanische Kermesbeere
Wikipedia: Wikispecies: | CABI
n/a
Back to the list of neophytes
Brief description
Phytolacca americana L. is widely naturalised in ruderal sites and in nature-like habitats in southern Europe, extending northwards to central France. Semi-natural habitats colonised include heaths, open woodlands, clearcut areas and forest edges. In Belgium, it is commonly used as an ornamental; it is planted in gardens and public green areas but doesn't reproduce in the wild so far. Under suitable environmental conditions, the American pokeweed forms dense populations that can outcompete native vegetation and prevent regeneration of forest species. The plant produces toxic saponins (Branquart et al. 2010).
IAS of Union concern
In 2020, Phytolacca americana L. was proposed as a candidate species to join the list of invasive alien species of Union concern.
Status and distribution in Luxembourg
The oldest herbarium specimen at the Museum dates back to the 19th century: it is a specimen from Siebenbürgen from the A. Georges herbarium in Gotha found in the Koltz herbarium, probably an exchange specimen (
Specimen № 15712
, MNHNL 2000-).
The oldest reference to Phytolacca in Luxembourg is found in the Bulletin of the Luxembourg Naturalist Society, when Eugène Beck circulates a sample of Phytolacca […], known from some of Luxembourg City's ornamental gardens (Anonyme 1946). We assume it to be Phytolacca americana L., as Phytolacca acinosa Roxb. has not yet been observed in Luxembourg. It was first recorded in Belgium in 1960 (Verloove 2021).
The first documentation of the American pokeweed in the wild was recorded in 1980 by Pierre Becker in a fir plantation downstream of Soup in the municipality of Heffingen (Reichling 1985: 136; Obs. key: DSS00465000000CI in MNHNL 2000-).
Grown for ornamental purposes in gardens. Very rare subspontaneous or adventitious; naturalised towards the SW limit of the Flora's territory: roadsides, waste ground, … The fruits of this species are poisonous, unlike those of Phytolacca acinosa Roxb., which is also grown in gardens for ornamental purposes, but especially for its fruits used as a colouring agent (Lambinon & Verloove 2012: 122).
Risk assessment
ISEIA protocol
B1 (2+2+3+2) = Watch List. First assessed 2021-02-16 by C. Ries & Y. Krippel.
Harmonia+ protocol
Not assessed.
Worldwide distribution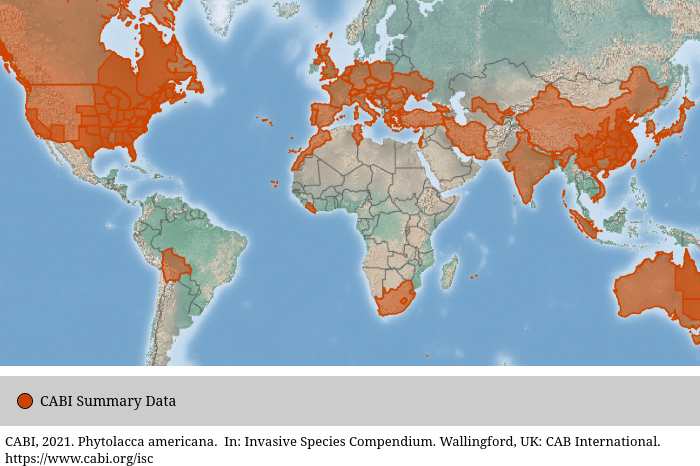 Bibliography
Anonyme, 1946. Comptes-rendus des séances de la Société des naturalistes luxembourgeois. Séances hebdomadaires du mois d'octobre 1946. Lundi, 24 octobre. Bulletin de la Société des Naturalistes Luxembourgeois 51 (2): 54.
Balogh L. & M. Juhász, 2008. American and Chinese pokeweed (Phytolacca americana L., Ph. esculenta van Houtte). – In: Botta-Dukát Z. & Balogh L. (eds): The most important invasive plants in Hungary. HAS IEB, Vácrátót, pp. 37–42.
Branquart, E., S. Vanderhoeven, W. Van Landuyt, F. Van Rossum & F. Verloove, 2010. Harmonia database: Phytolacca americana L. Harmonia version 1.2, Belgian Forum on Invasive Species. URL: http://ias.biodiversity.be [accessed on 2021-02-15]
CABI, 2019. Phytolacca americana L. In: Invasive Species Compendium. Wallingford, UK: CAB International. URL: www.cabi.org/isc [accessed 2021-02-15]
Lambinon J. & F. Verloove, 2012. Nouvelle flore de la Belgique, du grand-duché de Luxembourg, du Nord de la France et des régions voisines. Sixième édition. Avec la collaboration de L. Delvosalle, B. Toussaint, D. Geerinck, I. Hoste, F. Van Rossum, B. Cornier, R. Schumacker, A. Vanderpoorten et H. Vannerom. Jardin botanique national de Belgique, Meise. CXXXIX + 1195 pp. ISBN : 9789072619884.
MNHNL, 2000-. Phytolacca americana L. in Recorder-Lux, database on the natural heritage of the Grand Duchy of Luxembourg. Musée national d'histoire naturelle, Luxembourg. URL: https://mdata.mnhn.lu [Accessed 2021-02-15]

Reichling, L. 1985. Travaux de la Société. Séance du 8 mars 1982. Bull. Soc. Nat. luxemb. 85: 135-136.

Ries, C. & Y. Krippel, 2021 [Unpublished manuscript]. First records of 56 invasive alien vascular plants in Luxembourg. MNHNL & Naturpark Öewersauer.
Verloove, F., 2021. Phytolacca acinosa

Roxb.

On: Manual of the Alien Plants of Belgium. Botanic Garden Meise, Belgium. At: alienplantsbelgium.be, accessed 2021-02-16.
http://alienplantsbelgium.be/taxonomy/term/4773/descriptions
Page content last updated on 2021-03-05. Last proofread by Caroline Grounds on 2021-03-03.
Notes:
The species was introduced around 1650 into the Mediterranean area to be used as a dye-plant (Balogh & Juhász 2008). ↩