Tall annual willowherb

Status LU: n/a. 1st record: 2021,

ITW:

2021.
Kuerzfriichteg Weideréischen
Status Eur.: n/a. 1st record: 1978.
Épilobe d'automne
RA: ISEIA: n/a Harmonia+: n/a
Kurzfrüchtiges Weidenröschen
Wikipedia: | Wikispecies: | CABI

Wijde basterdwederik

Back to the list of neophytes
Report the species
→ Report Epilobium brachycarpum to the National Museum of Natural History.
Brief description
Epilobium brachycarpum C.Presl., is a species of willowherb known by the common names tall willowherb, tall annual willowherb, panicled willowherb and tall fireweed. It is native to and widespread in North America, where it is a resident of varied open and woodland habitats. It has also been introduced to some areas in South America and Europe. E. brachycarpum is a tall glandular, hairy annual herb occasionally reaching two metres in height. The flower has four petals which may be so deeply notched that they look like four pairs. They are generally light purple or pink, with darker veining. The fruit is a capsule 1 to 3 cm long.
It grows in wasteland, disturbed areas, sunny sites, on stony ground. It is a pioneer species, in the process of establishing itself in Europe (Germany, France, Belgium, The Netherlands, Luxembourg,…). The distribution map from CABI as indicated here below is thus to be considered as incomplete. The plant seems to be spreading along roads and particularly railways. In its native range, it grows on dry or seasonally moist, often disturbed soil, in open woods, meadows, especially along roadsides, and riverbanks, up to an altitude of 3300 m. (Wikipedia contributors 2022, Wolff & Krippel 2022).
Status and distribution in Luxembourg
Epilobium brachycarpum C.Presl. was recorded for the first time in Luxembourg in 2021 on a worksite in the locality of Grevels. A second record of the species was made in the same year on a worksite in Eschdorf.
The various populations of E. brachycarpum observed during that year have been found on fallow land that has been uncultivated for a maximum of three years and were linked to construction works around Esch-sur-Sûre (drinking water treatment plant and new SEBES pipeline) (Wolff & Krippel 2022).
Risk assessment
ISEIA protocol
Not assessed yet.
Harmonia+ protocol
Not assessed yet.
Worldwide distribution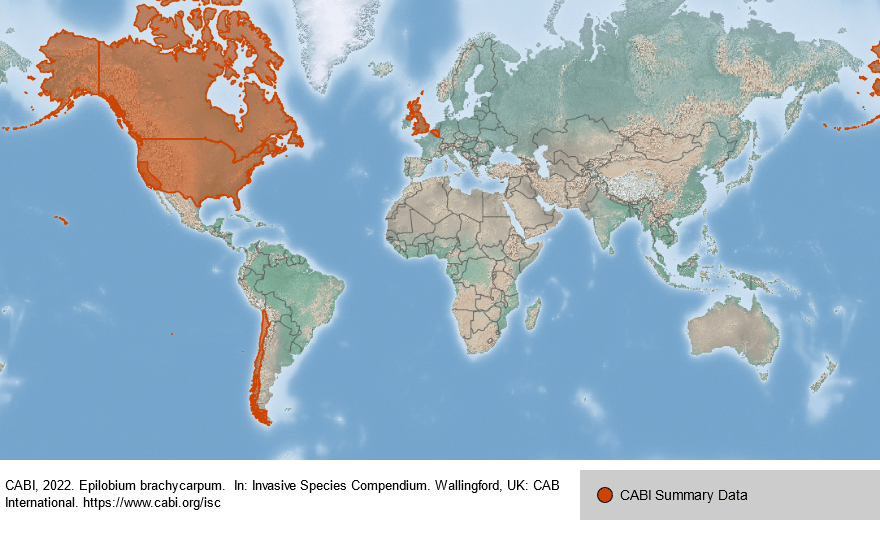 Bibliography
CABI, 2019. Epilobium brachycarpum. In: Invasive Species Compendium. Wallingford, UK: CAB International. URL: www.cabi.org/isc [accessed 2022-08-22]
Wikipedia contributors, 2022. 'Epilobium brachycarpum', Wikipedia, The Free Encyclopedia, 27 September 2019, 08:25 UTC, <https://en.wikipedia.org/wiki/Epilobium_brachycarpum> [accessed 2022-08-22]
Wolff, J.-P. & Y. Krippel, 2022. Epilobium brachycarpum C. Presl (Onagraceae), une nouvelle espèce pour la flore du Luxembourg. Bulletin de la Société des naturalistes luxembourgeois 124: 3-8. [PDF 5,13 MB]
Suggested citation of this webpage
Ries, C., M. Pfeiffenschneider & Y. Krippel (Eds.), 2023. Epilobium brachycarpum C. Presl. In: neobiota.lu - Invasive Alien Species in Luxembourg. National Museum of Natural History, Luxembourg. URL: https://neobiota.lu/epilobium-brachycarpum-c-presl/ [Accessed 2023-11-28].
Page content last updated on 2023-09-27. Last proofread by Caroline Grounds on 2022-09-06.