| | | |
| --- | --- | --- |
| | Asian hornet | ISEIA: C0 |
| | Asiatesch Runn | EASIN |
| | Frelon à pattes jaunes | Wikipedia:    |
| | Asiatische Hornisse | Wikispecies:  |
| | Aziatische hoornaar | Back to the list of invertebrates |
Report the species
→ Report Vespa velutina to the National Museum of Natural History.
Status and distribution in Luxembourg
An invader in Europe, the Asian hornet has appeared in France (2004), Spain, Portugal, Belgium (2011, 2016) (Barbier & Renneson 2018) 1) and The Netherlands (Smit et al. 2017). Further invasions are expected in various countries covering much of Europe.
So far, there have been no observations of the species in Luxembourg. The European hornet (Vespa crabro) and several social wasps (Vespula spp.) are well established in Luxembourg and they occupy potential niches suitable for the Asian hornet. Nico Schneider (2018) wonders if this might be part of the explanation why the Asian hornet hasn't yet established itself in Luxembourg.
Risk assessment
ISEIA protocol: C0 (3+1+1+1) (Ries et al. 2017: 69).
Leaflet on Vespa velutina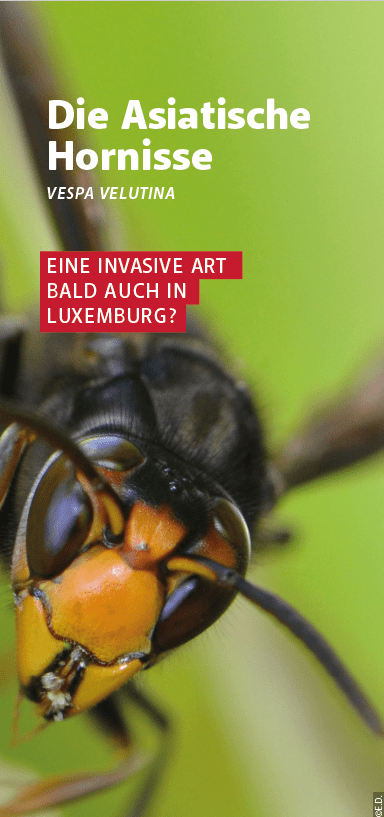 In spring 2016 the Department for the Environment of the Luxembourg Ministry of sustainable development and infrastructures published a leaflet in German about Vespa velutina, in co-operation with the Nature and Forestry Administration, the National Museum of Natural History, natur&ëmwelt and the National Bee-keeping Association.
→ Download the leaflet in PDF format (3.2 MB)
Since the publication of the leaflet, the Asian hornet has been reported several times to the authorities. All of these observations were confusion with native hornet species though.
In the press
Links
References
Barbier Y & JL Renneson (2018) Vespa velutina

Lepeletier,

1836. Atlas Hymenoptera. URL: http://www.atlashymenoptera.net/pagetaxon.asp?tx_id=3877 [2018.01.03]
Ries, C., A. Arendt, C. Braunert, S. Christian, A. Dohet, A. Frantz, G. Geimer, M. Hellers, J. A. Massard, X. Mestdagh, R. Proess, N. Schneider & M. Pfeiffenschneider, 2017. Environmental impact assessment and black, watch and alert list classification after the ISEIA Protocol of invertebrates in Luxembourg. Bull. Soc. Nat. luxemb. 119: 63-70. [PDF 360 KB]
Schneider N (2018) Personal communication by e-mail to C. Ries on 3rd January 2018.
Smit J, R van de Roer, R Fontein & A de Wilde (2017) Eerste vondst van de aziatische hoornaar Vespa velutina nigrithorax in Nederland (Hymenoptera: Vespidae). Nederlandse Faunistische Mededelingen 49: 1-10.
Suggested citation of this webpage
Ries, C. & M. Pfeiffenschneider (Eds.), 2020. Vespa velutina Lepeletier, 1836. In: neobiota.lu - Invasive Alien Species in Luxembourg. National Museum of Natural History, Luxembourg. URL: https://neobiota.lu/vespa-velutina/ [Accessed 2020-01-21].
Page content last updated on 2019-12-12. Last proofread by Caroline Grounds on 2019-12-12.
Notes:
Vespa velutina has been observed twice in Belgium: 1. one single specimen in October 2011 in Flobecq (Hainaut). 2. a nest in November 2016 in Guignies (Hainaut). ↩