| | | |
| --- | --- | --- |
| | Quagga mussel | Status LU: absent. |
| | Quaggamuschel | Status Eur.: established. |
| | Moule quagga | RA: ISEIA: n/a. Harmonia+: n/a. |
| | Quagga-Dreikantmuschel | Wikipedia: | Wikispecies: n/a | CABI |
| | Quagga mussel | Back to the list of invertebrates |
Report the species
→ Report Dreissena rostriformis bugensis to the National Museum of Natural History.
Brief description
The quagga mussel (Dreissena rostriformis, also known as Dreissena bugensis or Dreissena rostriformis bugensis) is a species (or subspecies) of freshwater mussel, an aquatic bivalve mollusk in the family Dreissenidae. It has an average lifespan of 3 to 5 years. The species is indigenous to the Dnieper River drainage of Ukraine, and is named after the quagga, an extinct subspecies of African zebra. The invasive quagga mussel is currently of major concern as it spreads in the rivers and lakes of Europe and also in the Great Lakes of North America.
Quagga mussels are presumed to have originated in the Ukrainian section of the Black Sea. The expansion of its range in Europe began only after 1940 and likely was associated with construction of interbasin canals and creation of impoundments along the large European rivers. Today, they are an invasive species found throughout western Europe. In Germany, quagga mussels were first identified in 2005, and now populate many inland waters, such as the Rhine–Main–Danube Canal, the Main, and the Rhine. They were first identified in Switzerland in 2015 and in Lake Constance in 2016, where they have since spread massively and caused considerable problems, in particular to the machinery in waterworks. In 2014, the species was reported at Wraysbury Reservoir, not far from London's Heathrow Airport in the valley of the River Thames. In Ireland, the mussels were first discovered in 2021 in two lakes on the River Shannon: Lough Derg and Lough Ree.
The mussel is expected to compete with existing zebra mussels and native species. Due to these biological traits, Dreissena spp. can substantially affect the environment, food webs and biodiversity of the ecosystems they invade, and cause tremendous economic damage in raw water-using industries, potable water treatment plants, and electric power stations. This species was identified as the top ranking invasive species threat to the UK in a study of almost 600 non-native species (CABI 2014, Wikipedia contributors 2022).
Status and distribution in Luxembourg
In Luxembourg, Dreissena rostriformis bugensis Andrusov 1897 has not been documented yet.
Risk assessment
ISEIA protocol
Not assessed yet.
Harmonia+ protocol
Not assessed yet.
Worldwide distribution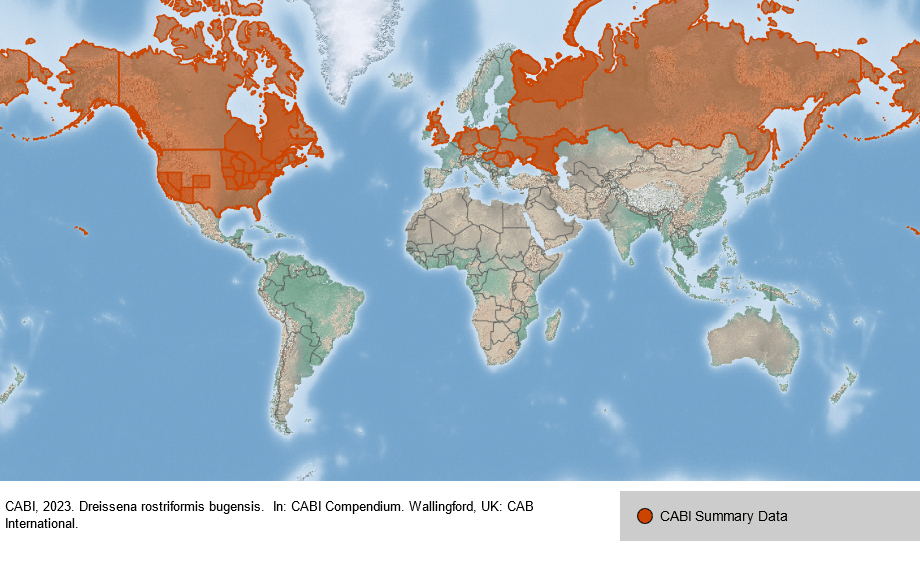 Bibliography
CABI, 2014. Dreissena rostriformis bugensis

Andrusov

1897. In: Invasive Species Compendium. Wallingford, UK: CAB International. URL: www.cabi.org/isc [accessed 2023-01-23]
Wikipedia contributors, 2022. 'Dreissena rostriformis bugensis', Wikipedia, The Free Encyclopedia, 10 November 2022, 22:31 UTC, <https://en.wikipedia.org/wiki/Quagga_mussel> [accessed 2023-01-23]
Suggested citation of this webpage
Ries, C. & M. Pfeiffenschneider (Eds.), 2023. Dreissena rostriformis bugensis Andrusov 1897. In: neobiota.lu - Invasive Alien Species in Luxembourg. National Museum of Natural History, Luxembourg. URL: https://neobiota.lu/dreissena-rostriformis-bugensis-andrusov-1897/ [Accessed 2023-10-04].
Page content last updated on 2023-09-27. Last proofread by Caroline Grounds on 2023-03-27.