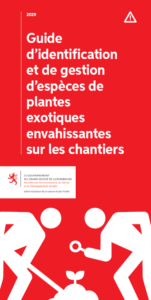 The Luxembourg Nature and Forestry Administration has published a guide on the identification and management of invasive alien plant species on construction sites. The 88-page guide is written in French and can be useful to other concerned parties such as biological stations, municipalities and other state administrations that are active in other activities such as nature sites, the development and maintenance of green spaces and along roads.
The guide can be ordered or downloaded from the following web page: https://environnement.public.lu/fr/publications/conserv_nature/plantes_exotiques_envahissantes.html
Citation: Pfeiffenschneider M. et al., 2019. Guide d'identification et de gestion d'espèces de plantes exotiques envahissantes sur les chantiers. 88 pp. Administration de la nature et des forêts (éd.).
Page content last updated on 2019-11-11. Last proofread by Caroline Grounds on 2019-11-11.