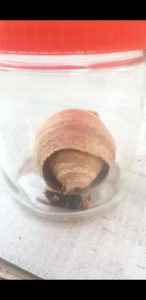 On Sunday 13 June 2021, a citizen of Rumelange discovered an initial nest of an Asian black hornet (Vespa velutina nigrithorax) and reported it to the Natural History Museum. The initial nests of the native Eurasian hornet (Vespa crabro) look very similar.
Note: This occurrence/detection of an Invasive Alien Species of Union concern named Vespa velutina nigrithorax has been notified on 16 June 2021 by Luxembourg, pursuant to Article 16(2) of R.1143/2014. The EASIN Notification System automatically warns (all the other) European Member States whenever the occurrence/detection of an IAS of Union concern is notified.
Page content last updated on 2021-06-18.