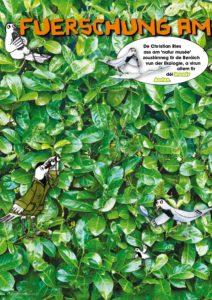 The children's magazine Panewippchen, edited for the members of the Panda Club of the Luxembourg National Museum of Natural History, has published an interview with Dr Christian Ries, curator of the Department of Ecology:
Schaltz, Michèle, 2017. Fuerschung am 'Natur Musée': Ekologie. Panewippchen 4: 6-11. [PDF 2.2 MB]
The last page of the article encourages the young readers to participate in a citizen science survey concerning the recent spread into the wild of the cherry laurel (Prunus laurocerasus L.), a common garden plant in Luxembourg, mostly planted to build hedges. Fruits can be dispersed over long distances by birds.
Interested children are asked to look in the forests around their neighbourhood, the evergreen cherry laurel being very easy to spot in winter time, when trees and shrubs lose their leaves.
The children are asked to send the following basic information to :
How many cherry laurel individuals have been spotted?
Where were they spotted (using GPS of portable devices)
Observer's name, age, address and email address.
Page content last updated on 2019-11-11. Last proofread by Caroline Grounds on 2019-11-11.